HOW TO CHOOSE SKI?
The right choice of skis includes many nuances, namely your level of skiing, technique skills, height, weight, age, terrain conditions in which you are going to ski and other factors. You should start by determining the size of skis that suits you. just for you.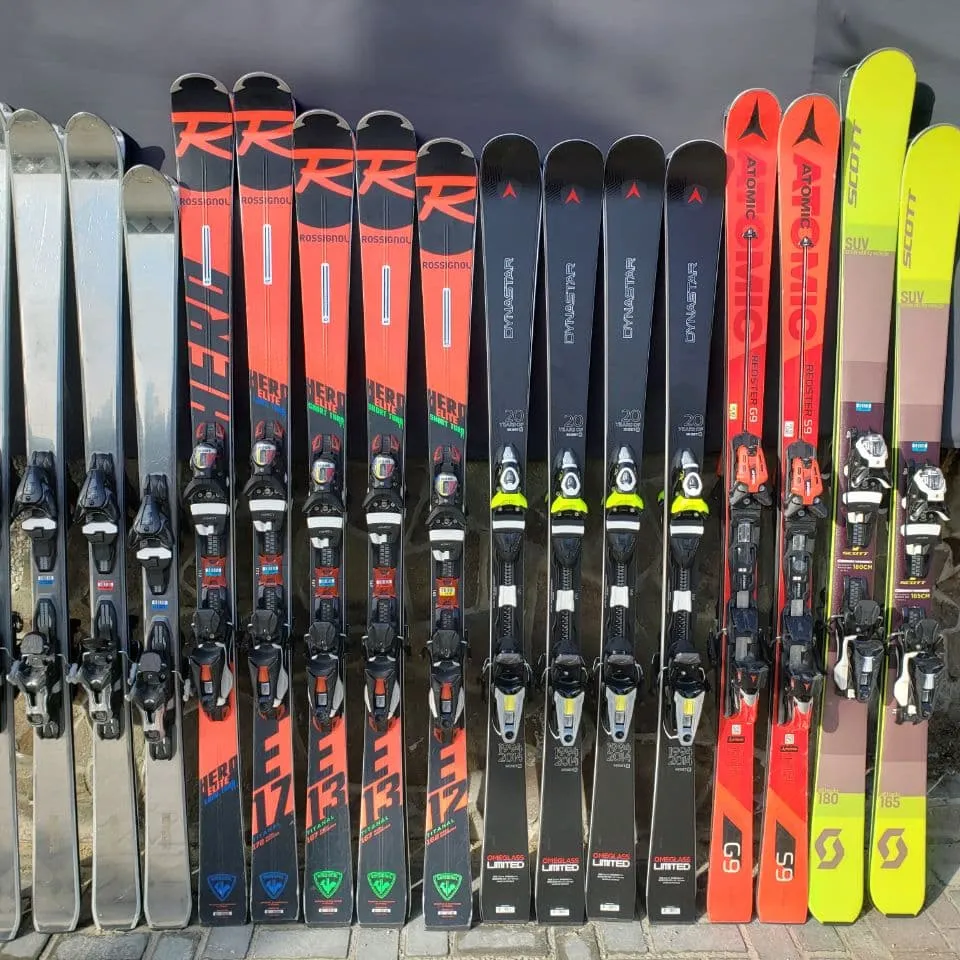 How long should skis be?
There is no magic formula to determine the right size of skis. In general, the optimal length of skis is somewhere between your chin and forehead / height. For example, a 170 cm skier can choose skis from 160 cm to 180 cm. Exact correct size It will depend on your experience, skills, abilities and style of skiing.Factors such as height and weight are important indicators, but not decisive.The category of skis, type of snow, terrain and personal needs are just some of the things For example, for beginners, those who have decided to go skiing for the first time, or do not yet feel confident, it is recommended to choose shorter skis. And for experienced skiers, longer skis are better.
Longer or shorter skis?
Within the size range of skis, there are several reasons to choose a shorter or longer ski. A short ski will be easier to turn, but it is not as stable as a longer one. shorter than all-mountain or freeride skis with a longer turning radius and a wider waist.
Reasons to choose shorter skis:
- You are a beginner or intermediate skier, you ride unsteadily.
- You weigh less than average for your height.
- You like to make short fast turns and rarely ride fast.
- You you want carving skis only with a rocker.
Reasons to choose longer skis:
- You ski fast and aggressively.
- You weigh more than average for your height.
- You plan to go off the beaten track.
- You want to confidently keep the arc in turns.
Choice of skis by level of skiing
The level of skiing is not decisive for the choice of skis, as ski technology has allowed beginners to ski a much greater variety of skis. However, there are features that distinguish skis, making them better suited for skiers of different levels of skiing
Ski for beginner / intermediate level
If you are new to skiing or a skier who works on smooth turns. Ski characteristics for beginners: soft ski, narrow waist, composite, foam or soft wooden cores. The idea is to choose a ski that is easy to turn, and it forgives minor mistakes when skiing.
Intermediate / Experience Skis
Most skiers and skis approach this level, whether you like sloping slopes or a hilly surface. These skis are usually slightly wider than beginner and intermediate skis, with a stronger wooden core. and a sandwich side design. Depending on the type of ski, mid-level skis can have a rocker.
Experienced / Expert Skis
Regardless of the choice of terrain, skis from experienced to expert level are designed for more aggressive and experienced skiers. You will often find layers of titanal, carbon, flax or other materials designed to provide better rigidity at speed or in difficult conditions. Experienced experts are generally stiffer in both longitudinal and transverse sections than mid-level skis, and can cause difficulties when skiing at lower speeds. They also come with a variety of rocker configurations.
Ski size and feeling when skiing
There are many factors that affect the feel of a ski and how it works, and several common measurements are used to describe it. / 107 mm. In this example, 115 mm means the width of the sock (the tip of the ski), 90 mm - the width of the waist, and 107 mm - the width of the heel (tail). Other factors, such as flexibility and feel, are more subjective.
Waist width is one of the most common characteristics after ski length. It is a measurement of the width of the skis in the middle (waist) of the ski, which is usually the narrowest point. Waist width has a big impact on how easily the ski turns and how it handles loose and unrolled snow. A narrower waist width is faster from edge to edge when turning, and a wider waist width provides better smoothness in puffy and loose snow.
Turning radius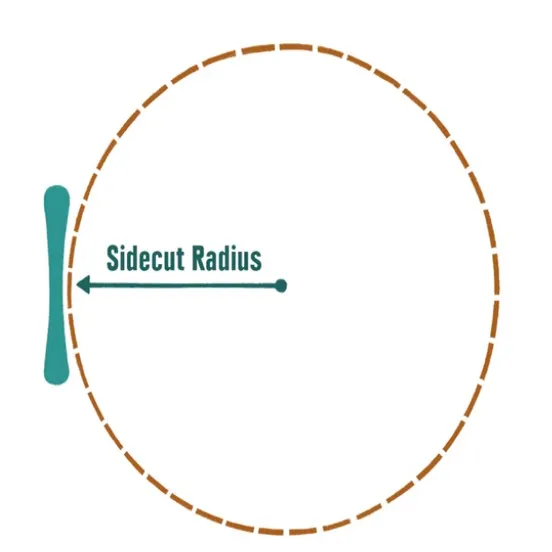 Turning radius is the shape of a ski, defined by the width of the toe, waist and tail, usually expressed in meters. The narrower the waist of the ski relative to its toe and tail, the shorter the turning radius and therefore the deeper A ski with a deep side cut (short turning radius) will make turns faster, and a ski with a thin side cut (long turning radius) will turn slower and is usually more stable at high speeds.Some modern skis combine two or more radii at one edge.
Ski Camber and Rocker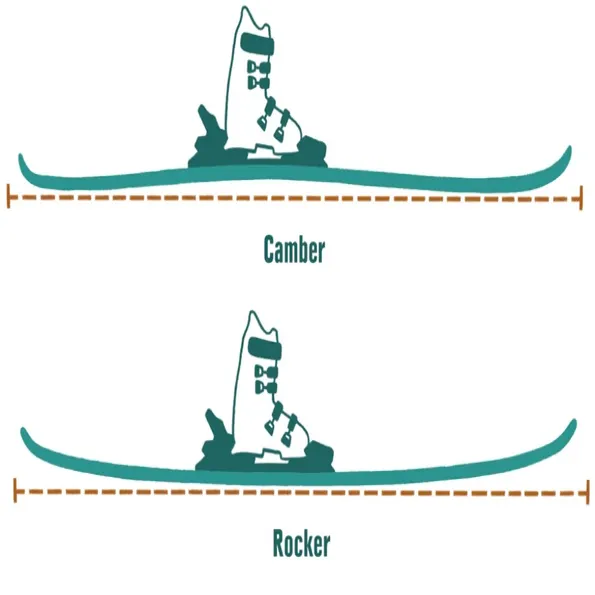 Camber - an arch-shaped ski bend - is a small ascending curve in the middle of a ski or board, with points of contact - where the ski or board comes in contact with snow - close to the ends. Camber requires a more precise start and provides excellent precision with high power on prepared slope and hard snow.
Rocker - reverse bend. Curved skis and boards put more pressure on the snow on the tip and tail, because to achieve this bend they have to bend further. Rock skis and snowboards provide excellent smoothness on soft snow and make it easier to start turning with less chance of catching the edge. As skis as a whole become wider, the rocker helps keep new shapes maneuverable for a wider range of skiers. Wide shapes of skis and boards, designed mainly for loose snow.
Ski selection by type of terrain
When choosing a pair of skis, it is important to consider the type of terrain you will ride most often. Different ski styles will be different in different parts of the mountain. Today the boundaries between different types of skis are increasingly blurred, so many skis fall into more than one category .

Universal carving skis
As the name implies, universal skis are designed for skiing on all types of surfaces. But their main purpose is a solid prepared slope (like the slopes in Bukovel). If you are going to have only one ski to ski everywhere, then this is it However, universal skis come in a variety of shapes and widths to meet the specific needs of different skiers.
Skis for chubby
These are deep snow skis. If you like to find off-piste at your local resort, then this is what you need to stay afloat. Skis in this category are usually wider than universal (115 mm or more) at the waist). Some have a unique cut shape, such as a back side cut; the tip and tail are not always the widest parts of the skis. Today, plump skis are versatile enough to handle mixed conditions and harder snow.
Skiing for the park
Park and pipe skis, often called freestyle skis, are designed for skiers who spend most of their time in a landscaped park. If you like jumping, rails and arrows of all kinds, then check out this category. Park and pipe skis have a narrower waist with full collapse, this category includes more models of rockers and different shapes.You will almost always find these skis with double tips, as well as other features of the park, such as thicker, stronger edges, dense extruded bases and oil zones.
Classic skis
We mention them here only as a historical fact. Today these skis are no longer for sale or rental. You can see them as rare skis for fans of nostalgia or in some unusual cases.
Ski preparation / ski service
For comfortable skiing, no matter what ski you choose, they need to be prepared. In the process of preparing skis for skiing you need to check the serviceability of the fasteners, the smoothness of the sliding surface (Teflon), the sharpness of the edges. If necessary, make repairs. winter season, you should make skis full service, and at the end of the season, prepare them for conservation.Full service includes the following: cleaning the sliding surface (shallow grinding), filling the damaged sliding surface with coffee, grinding the sliding surface, sharpening edges on the machine, hot special paraffin, cycling and rubbing the sliding surface.
More about the preparation, service and repair of skis and ski equipment here 👉
---